What's New in A.K.I.

---

---
April 2 - 4
Sensei Egbert Moustache reports that the Annual Easter Gasshuku in the Seychelles was a success with 55 students attending. Two female students who spent time as Uchi Deshi at Honbu in last year, Marie-Antoine Radegonde & Laina Adrienne was promoted to 2nd kyu. They are the first students in Seychelles who started as complete beginners who have now achieved their Brown Belts. Congratulations!
Sensei Egbert whilst on vacation in Madagascar, the biggest Island in the Indian Ocean, taught classes at a TaeKwonDo Dojang which will be converting to the Ashihara style.
Then, Sensei was recently appointed a Vice chairman of the board of Directors of the Shelter Afrique and African Housing Funds Organisations based in Nairobi. He now gets to travel to Kenya free of charge about four times a year. Congratulations to him also! Who knows, a branch in Kenya might develop!
March 31
A report back on one heck of a hot seminar with Morio Higaonna Sensei, 9th Dan Okinawan Goju Ryu - hot meaning temperature. It was a real baddy - 40 degrees Celsius. The warm -up (Junbi Undo) was so intense that pools of sweat formed at the feet of many. There was a time when I thought I was going to faint!! What probably attributed to this was that Sensei was standing right in front of me - so I couldn't loaf........;-) and I really had to give even more than my best.
The training was very basic but then, it was stated before the commencement that it would be so. What I particularly enjoyed was that my students was pushed past their usual limits and they could not get a break - personally in such heat, I would give them a break - however Higaonna Sensei comes from the "old school". I have trained under such conditions but not of my students - it was amazing to see that they could actually "stick" it out. Now I know - I think what helped was that it was a different person - also the fact that Higaonna Sensei is 61 years old motivated them to continue.
After a lengthy time on Kihon which included stepping sideways, etc. we were matched against a partner to practise some blocking exercise - more like isometrics - the resistance was to aid in the development of "stickiness" - we didn't go into Kakie although it was demonstrated.
The training concluded with a demonstration of various kata by some senior students of SAGA and Sensei Bakkies as well as the bunkai of it. Higaonna Sensei also demonstrated Tensho and Kakie.
Those of my students that could attend had a super time. Thanks to the SAGA for giving us this opportunity. What was great was that Higaonna Sensei came to me before training started and he actually remembered me - I first met him in 1982 and have trained with him a couple of times since then - the last time was in 1990 in Holland - amazing memory and a Super guy!
The only other styles that attended was ourselves (30) Goju Kai (5) and Shukokai (1)- a pity that the other dojo did not make use of this opportunity to train with a living legend.
February 13,14
During this weekend, myself and some students trained on a seminar given by Alfred Plath, a 3rd Dan in the Modern Arnis system of Remy Presas. Alfred is from Germany and publishes a magazine in German on the Filipino Arts. His visit was made possible by Erik Petermann, Sandan, who organised the seminar.
On Saturday we did single sticks and on Sunday we did double sticks and the knife. It was great fun and a learning experience for many who attended. Alfred covered the various strikes (12) with different blocking techniques and most of the time was spent on disarming the opponent. Similarly, the knife techniques stressed the use of body shifting and disarmament. A demonstration of the double sticks (Sinawali) against the Bo was also done to give the participants an idea of what to do should they ever be in a similar situation. Time was also spent on using alternative weapons/tools such as a belt if attacked with a weapon, and how to make effectively use of it.
Personally I was very happy as I could still do most of the techniques learnt so long ago.
February 6
Honbu celebrated Kagami Biraki with many students coming to sleep over the Friday evening.
December 14
Honbu played host to the Annual Awards Ceremony for the Western Province region, which despite the sudden rain storm which came up, was attended by about 150 students, parents, and guests. It was quite a nice event to formally close the year. This time around we had comedy skits, ball room, plays, etc. other than the normal certification and prize giving only which was done in the past.
Special guests included Sensei Donnie Marx (Gauteng rep) and his sons, Senpai Jonathan and Daniel, Sensei Clive Eksteen (Gichin Karate), Sensei Faizel Mohamed (Shotokan) and old friend, Sensei Joe van Rensburg (Karate Confederation).
The Honbu gives those in need of a rest a break but for the die-hardy - training will continue!

December 5
Honbu was honoured by a visit of Master Satwinder 'Tony' Vohra, a 7th Dan WTF TaeKwonDo Master from Nottingham, England. Master Vohra came to do a seminar for affiliated members of his Organisation. Kaicho met him in 1990 whilst living in England and Kaicho, Sensei Gakiem and Senpai Achmat Hassiem had the privilege of training with Master Vohra in what was described as a "fun but learning experience".
December 5
At the KASA Awards ceremony hosted by the KAWP, Kaicho received the Instructor of the Year Award and a runners-up award for Administrator of the Year from the Karate Association of the Western Province, similarly Mrs Linda Hofmeester received the Parent of the Year Award for work done on an All Styles level.
November 28
Helga Nibourette, of the La Digue Branch in Seychelles was awarded the Female Karateka of the Year Award by the Seychelles Karate Federation. This is for both Junior and Senior Categories. Helga won a gold medal at this year's Invitational Championships in Cape Town. At 16 years of age, she defeated many older competitors. Honbu offers our very best to her and Sensei Egbert Moustache, the Seychelles Representative. Keep it up!!!
November 27 - 29
Honbu had its Annual Summer Camp (Shochu Geiko) at the Cape Times Fresh Air Camp in Simons Town. For the first time ever, all participants had a bed of their own and warm water to boot. Sensei Gakiem Hayzer complained that the camp is getting to luxurious and that it should return to tents and icy water showers. Naturally, he was not supported!
Nearly 100 students sat for various gradings including shodan and nidan grades.
November 21
Sad News for Ashihara Karate- Shibucho Mathokoza Dlamini, the Representative for Swaziland passed away on Saturday after a prolonged illness that had the doctors and specialists baffled. We offer our sincere condolences to his wife, Lindi and two sons. Osu!
Mathokoza joined Ashihara Karate after I visited him in March of last year. Since then we have visited there many times and a team from there took part in both this year and last years Invitational Championships. Sadly Shibucho was ill and he could not accompany the team to this year's event. Since the time that he became involved with us, I found him a perfect gentleman, diligent and hard working.
Mathokoza, we will miss you!
November 21
Armando Hurtado, a yellow belt student of Panama won 2nd place in the childrens category age 11 - 13 at the International Kyokushin Open Championships held in Costa Rica. Congratulations to both Armando and Sensei Zenón Cortez Becker, the Panama Representative.
November 11
Honbu bids a warm welcome to Shidoin André Kelinski of Germany, a Nidan in Wado Ryu Karate, who decided to join our Organisation.
Honbu also welcomes Paul M. Hucul of Canada and Jerry Butler of Wisconsin, USA who enrolled on the Distance Education Program.

October 21
Interest in Ashihara Karate and the Long Distance Education program seems to be gaining momentum as we are having serious enquiries from Germany, Jamaica, Russia & the USA just to name a few.
October 18
The Panamian group headed by Sensei Zenón Cortéz Becker participated in the Kyokushin championships organised by Shihan Jorge Bustos Padilla. According to Shibucho Cortez, the students participated with good spirit.
We very happy because we participated with 7 competitors and 3 of them get good places.
In the children category 9 to 12 years: 2nd and 3rd place from Luis Carlos Valiente and Armando Hurtado and in the category 15 to 17 years: Emanuel Paternina got the 2nd place.
The competitors was :-
Marco Morales Sensei
Rodolfo Ceballos - Yellow Belt
Armando Hurtado - Blue Belt
Jermain Ulate - Blue Belt
Luis Carlos Valiente - White / Blue Belt
Keros Howard - White / Blue Belt
Emanuel Paternina - White / Blue
September/October
Sensei Erik Petermann, Honbu Sandan taught two seminars in Germany whilst on Vacation.
30/09 - taught a seminar for Mr Alfred Plath at the Arnis Club Manila in Essen.
15/10 - taught a seminar for Manuel Ortiz at the W.Tsun Clubs Singen,Tuttlingen, Doneneschingen.
October 3 -5
In Sri Lanka. Taught at the dojo of Sensei Anil Hudasinghe. The standard was quite good, despite them being isolated. I promoted K. A. Sarath Kodikara to Shodan-Ho and one student to Brown Belt. Should they continue with their training, great potential can be expected. I was also very impressed by one female student - a Ms. Rukshika. She is definitely, a valuable asset to the Sri Lankan group!
September 23 - 0ct 10
In India, I met and trained with dojo primarily in the Mumbai area. This included training with the Karate Budokan Int'l group headed by a Sensei P. Singh, 5th Dan. It seems as if the Budokan group is quite well represented. I also visited with Pervez Mistry, a 6th Dan IOGKF Goju Ryu and Technical Director of the All India Karate Federation (AIKF). Whilst I did not train with him - I found him very knowledgeable and he looked very fit and capable! Looking forward to training with him on future visits.
Of particular interest was the meeting and exchanging of ideas and training techniques with Shihan Dadi Bulsara and several of his Dan grade students. Due to Shihan Bulsara having to go to Bremen, Germany (as part of the Indian delegation buying 3 submarines), I did not travel to Calcutta as originally planned. We then had the get together in Mumbai instead. Special thanks to Senpai Chetan Gala for the arrangements.Some Ashihara members travelled a great distance to meet with me, one of them Sensei Mohanty Harihar, the Branch Chief for the Gujarat Province, travelled nearly 20 hours by train for a one hour session. He was accompanied by 3 of his Dan grade students.
Due to time constraints I simply had no time to visit many of the dojo I had hoped to. A consolation is that I am scheduled to be back in Sri Lanka in May of next year. Bulsara Shihan also wants me to teach at a training camp he is having for Naval Intelligence in India at the end of December this year.
With the increased growth of our Organisation Internationally, I have been requested to visit many countries. I hope to fit in as much as I can. Should I have already visited a particular country, I would suggest that one of the Dan grade students from the Honbu visit in my place should I not be able to.
September 19 - 22
In Dubai - had a training session with the UAE National team under its coach Shahram Masoumi. Also assisting was a member of the Iranian team whom I met when he competed at the WKF World Champ's in 1996. Whilst in the UAE, visited the Karate Budokan Int'l dojo headed by a Sensei Renjith.
During my visit there I also had the opportunity to have a serious discussion with Sensei Muhammed Jaffer Al Ansari, the Ashihara representative based in Abu Dhabi. He has not been too active, but it appears as if my visit will be a catalyst for him to recharge and rebuild.
September 15
Kaicho leaves for Dubai, India and Sri Lanka. He is scheduled to visit, teach and train at affiliated branch dojo.
September 5
Honbu bids a warm welcome to Sensei Mark Crescitelli, Yondan of Palmdale, Calif. USA who after serious discussion with Sensei Sunit Kumar Gupta, decided to join Ashihara Karate.
September 2
Honbu celebrates its 18th Anniversary. Congratulatory messages is received from all over the world. Special training is honoured by a visit of Senpai Phil Seddon, a IOGKF Yudansha formerly of New Zealand, but living in Saudi Arabia.
August 29
Marie Antoine Radegonde and Laina Adrienne, two 3rd Kyu Students from the Seychelles start with the three month Uchi Deshi Program. Good luck to them both.
August 22
The 9th Invitational Championships took place at the UCT Sports Centre in Rondebosch, Cape Town. More than 400 competitors from many dojo throughout the Cape and South Africa including teams and individuals from Seychelles, Germany, Madagascar, Swaziland and Mozambique took part.
August 1
Senpai Xavier Inglis returns after having spent four months in the Seychelles. Whilst there he gave classes daily. Full report out soon.
---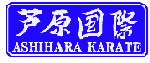 Return to Home Page
---
Updated by Hoosain Narker