Contact Information
---

---

Should you wish to get in touch with Ashihara Karate, you may do so by contacting the International Headquarters at:
Ashihara Karate, P.O. Box 117, Retreat, 7965, South Africa.
You may also contact one of our Continental Chairman
Shihan Dadi Bulsara - South East Asia (sshihan@hotmail.com)
Shihan Dai Sermet Ulufer - Europe
You may also contact any of the Branch Instructors listed under our Branch Information Page.
---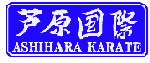 Return to Home Page
---

Updated by Hoosain Narker