Dojo Kun
---

English
1. We will always be courteous.
2. We will make the best of our endeavors.
3. We will continue to improve our spirit and technique.
4. We will maintain a challenging spirit.
5. We will reflect on ourselves today, and strive to improve ourselves for tomorrow.
6. We will pursue karate as a means to know the way of life itself.

Afrikaans (South Africa)
1. Ons sal altyd hoflik wees.
2. Ons sal die beste maak van ons pogings.
3. Ons sal aanhou strewe om ons geesdrif en tegniek te verbeter.
4. Ons sal 'n uitdagende geesdrif behou.
5. Ons sal ons-self vandag ondersoek en strewe om ons-self te verbeter vir more.
6. Ons sal Karate volg as 'n manier om selfs die weg van lewe te leer ken.
Many thanks to Senpai Ferdi Oosthuizen of Parow, South Africa for the translation.

Arabic
Many thanks to for the translation.

Creole (Seychelles)
1. Nou pou touletan kortoizye.
2. Nou pou fer nou mie dan tou sa ki nou antrepran.
3. Nou pou kontinye improve nou lespri e teknik.
4. Nou pou metenir en lespri challenging.
5. Nou pou fer refleksion lo noumem ozordi, e fer tou pou improve nou pou demain.
6. Nou pou fer Karate koman en moyen pou konn semain lavi limem.
Many thanks to Sensei Egbert Moustache of the Seychelles for the translation.

Danish
1. - vi vil altid være høflige.
2. - vi vil få det bedste ud af vore bestræbelser.
3. - vi vil forsætte med at forbedre vores ånd og teknikker.
4. - vi vil opretholde åndens udfordring.
5. - vi vil dadle os selv, og bestræbe os på at forbedre os selv for fremtiden.
6. - vi vil forsætte med karate som vejen til at forstå og kende til vejen til livet.
Many thanks to Ole B. Pederson of Denmark for the translation.

Dutch (Hollands)
1. Wij zullen altijd beleeft zijn.
2. Wij zullen er altijd naar streven om ons best te doen.
3. Wij zullen doorgaan met het verbeteren van onze geestdrift en techniek.
4. Wij blijven een geest die open is voor uitdagingen behouden.
5. Wij zullen vandag kijken naar onzezelf en ons voor morgen verbeteren.
6.Wij zullen Karate beoefenen als een manier om het leven zelf te ontdekken.
Many thanks to Renshi Wendi Dragonfire of Holland & Koen de Backker of Belgium for the translation.

Finnish (Finland)
1. Me olemme aina kohteliaita.
2. Me yritämme parhaamme.
3. Me jatkamme mielen ja tekniikan kehittämistä.
4. Me ylläpidämme haastavan mielentilan.
5. Me tutkimme itseämme tänään ja pyrimme kehittymään huomenna.
6. Me opiskelemme Karatea keinona elämäntien oppimiseen.
Many thanks to Timothy Field of USA (Finland) for the translation.

Français (French)
1. Nous serons toujours courtois.
2. Nous ferons tous nos efforts possibles.
3. Nous continuerons à améliorer nos esprits et nos techniques.
4. Nous garderons un esprit chercheur.
5. Nous nous concentrerons sur nous-mêmes aujourd'hui, et nous nous efforcerons à progresser en préparation du lendemain.
6. Nous nous consacrerons au Karaté pour apprécier le sens même de la vie.
Many thanks to Sensei Mourad Oulid-Aissa of the USA for the translation.

German (Deutsch)
1. Wir werden immer hoeflich sein.
2. Wir werden immer unseres Bestes versuchen.
3. Wir werden weiterhin unseren Geist und unsere Technik verbessern.
4. Wir werden einen herausfordernen Geist beibehalten.
5. Wir werden ueber uns selbst heute nachdenken, und uns fuer morgen verbessern.
6. Wir werden Karate ausueben als Methode das Leben selbst zu erforschen.
Many thanks to Sensei Erik Petermann of Honbu, South Africa for the translation.

Hindi
1. Hum Sada Vinamra Rahengey.
2. Hum Sada Agrasar Hone Ka Pryas Karengey.
3. Hum Sada Apne Shourya Aur Kala Ko Sudharenghey.
4. Hum Sada Tejasvi Rahengey.
5. Hum Sada Apne Aaj Ke Pratibimb Ko Dekhkar; Kal Safalta Ki Chesta Karengey.
6. Hum Karate Ko Jivan Ka Dheyey Banakar; Jivan Ki Pahchaan Ka Marg Samjhengey.
Many thanks to Shibucho Sunit Kumar Gupta of the USA (India) for the translation.

Indonesian
1. Kami akan selalu bersikap sopan santun.
2. Kami akan berusaha keras dalam setiap mencapai tujuan.
3. Kami akan terus meningkatkan semangat dan teknik.
4. Kami akan memelihara semangat yang penuh tantangan.
5. Kami akan selalu memeriksa diri sendiri dan berusaha meningkatkannya untuk esok hari.
6. Kami akan mengikuti karate sebagai alat untuk mengenal arti jalan hidup.
Many thanks to Sensei Richard Soesilo of the USA (Indonesia) for the translation.

1. Saremo sempre cortesi.
2. Faremo del nostro meglio.
3. Continueremo a migliorare nello spirito e nella tecnica.
4. Manterremo il nostro spirito combattivo.
5. Mediteremo oggi e lavoreremo per migliorarci domani.
6. Perseguiremo il Karate come metodo di conoscenza e sistema di vita.
Many thanks to Sensei Cosimo Mitaritonno of Italy for the translation.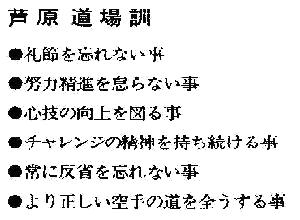 Many thanks to Senpai Noriyoshi Sakamoto of Tokyo, Japan for the submission.

Japanese (Romanji) Many thanks to Senpai Noriyoshi Sakamoto of Tokyo, Japan for the translation.


Norwegian
1. Vi alltid skal være høflig.
2. Vi skal lage det beste av våre bestrebelser.
3. Vi skal fortsette til å forbedre vår ånd og teknikk.
4. Vi skal vedlikeholde en utfordrende ånd.
5. Vi skal reflektere på oss i dagog strever til forbedrer oss for i morgen.
6. Vi skal forfølge karate da en mulighet til vet måten av liv oss.

Portuguese
1. Nós sempre seremos corteses.
2. Faremos o melhor de nossos esfôrço.
3. Continuaremos a melhorar nosso espírito e técnica.
4. Manteremos um espírito que desafia.
5. Refletiremos em nós hoje, e esforçe a melhorar nos para amanhã.
6. Perseguiremos karate como um meio a saber o meio de vida se.

Romanian
1. Vom fi mereu politicosi si amabili.
2. Ne vom depasi propriile limite.
3. Vom continua sa ne perfectionam atat spiritul cat si tehnica de lupta.
4. Vom mentine un spirit de autoprovocare.
5. Vom reflecta asupra noastra astazi si ne vom perfectiona pentru maine.
6. Vom practica Karate ca pe un mijloc de a cunoaste insasi calea vietii.
Many thanks to Marian Constantin GHILEA and Andrei TRANDAF of Rumania for the translation

Siswati (Swaziland)
1. Inhlonipho kutoba yintfo lesiyiphakamisako futsi lesitohlala nayo isiphakamisa.
2. Sitokwenta konkhe lokusemandleni etfu ekuphakamisa umndlandla wetfu.
3. Sitokwenta ngemandla etfu kuphakamisa lizinga ngeku cophelela.
4. Sitohlala sinemfutfo ngasosonkhe sikhatsi.
5. Kwamanje sitakwentama ngalokusemandleni etfu siphindze setame kwenta kancono esikhatsini lesitako.
6. Ikarate sitohlala siyisebentisa imihla nemalanga, njenge sikhali sekulwa nebumatima bemphilo yetfu.
Many thanks to Mrs Lindi Dlamini of Swaziland for the translation.

Spanish
1. Siempre seremos respetuosos.
2. Siempre brindaremos nuestro mejor esfuerzo.
3. Continuaremos incrementando nuestro espiritu y tecnica.
4. Mantendremos en alto nuestro espiritu de competencia.
5. Reflejaremos lo mejor de notros hoy, e incrementaremos lo mejor de nosotros mañana.
6. Seremos perseverantes con nuestro karate y lo tomaremos como regla y y camino de nuestra propia vida.
Many thanks to Shihan Jorge Bustos Padilla of Panama for the translation.

Swedish
1.Vi kommer alltid att vara höviska.
2. Vi kommer att göra det bästa av våra ansträngningar.
3. Vi kommer att fortsätta att förbättra vår anda och teknik.
4. Vi kommer att upprätthålla en utmanande anda.
5. Vi kommer att reflektera över oss själva idag, och sträva efter att förbättra oss i morgon.
6. Vi kommer utöva karate som ett sätt att lära känna livet självt.
Many thanks to Jonas Samad of Sweden for the translation.

Turkish
1. Nezaket, saygi ve tesekkuru unutmama hususunu.
2. Caba ve gayretteki konsantrasyonu ihmal etmeme hususunu.
3. Yurek ile teknigin gelismesini ve iler lemesini planlama hususunu.
4. Meydan okuma ruhuna sahip olup, devam ettirme hususunu.
5. Gunluk kendi kendini elestirmeyi unutmama hususunu.
6. Karate'nin yolunu durustluge, dogruluga gure gercekles - tirip tamamlayacagim.
Many thanks to Sensei Nihat Yigit of Turkey for the translation.

Urdu
1. Hum Hameshan Haleem Rahengey.
2. Hum Hameshan Age Barney Ki Koshish Karengey.
3. Hum Hameshan Apne Noor Aur Hunor Ko Nikharengey.
4. Hum Hameshan Dilair Rahengey.
5. Hum Hameshan Apne Aaj Ki Jhalak Dekhkar; Kal Kamyabi Ko Koshish Karengey.
6. Hum Karate Ko Maqsad Banakar; Zindagi Ki Pehchaan Ka Rusta Maneygey.
Many thanks to Shihan Dadi Bulsara of India for the translation.

Xhosa (South Africa)
1. Imbeko iyakuhlala iyinto esiyiqaqambisileyo nesiqaqambisayo.
2. Siyakukwenza konke okusemandleni ethu ekuphuhliseni amalinge ethu.
3. Siyakuhlala sizama ukuwunyusa umoya wethu nokuphulula ubuchule bethu.
4. Sakuhlala siwugcinile umoya wokufuna undikho.
5. Sakuziphengulula mihla le ukuzilungigelela ungomso.
6. Ikarate sakuthi rhoqo siyisebenzisa njengesixhobo sokugubhulula ubunzulu bobomi.
Many thanks to Shibucho Michael Jibiliza of Uitenhage, South Africa for the translation.

Zulu (South Africa)
1. Inhlonipho kuyoba yinto esiyiphamisayo futhi noiyo ezosiphakamisa.
2. Sizo kwenza konke okusemandleni ethu ekuphumele liseni ugqozi lwethu.
3. Sizokwenza okusemandleni ethu ukuphakamis ubu hlakani bethu.
4. Sizohlala siwugcine njalo umoya woku ba ne nselele.
5. Sizama ngasemandeni ethu imihla namalanga ekuhleni nasekulungiseni ikusasa lethu.
6. Sizohlala siyisebenzisa imihla namalanga ikarate ngengesikhali sokunqoba ubunzima bempilo yethu.
Many thanks to Ms Busisiwe Tshabalala of Johannesburg, South Africa for the translation.

Coming soon in Arabic, Sinhalese & Persian!!!
Meaning of the Dojo Kun
Over a period of time, we will attempt to give meaning to the various sayings in the Kun. Below find an interpretation of one.
WE WILL PURSUE KARATE.....
The last statement in our dojo kun states that "We will pursue Karate as a means to know the way of life itself." Please take a moment to think about what this means.

Training in Ashihara Karate helps a student to condition his or her body, to become stronger, to learn techniques that are effective means of self-defence. A student in Ashihara Karate learns discipline and respect and the importance of challenge in the dojo.

But the student of Ashihara Karate must remember that what is learned in the dojo is not just for the dojo. That training offers us many disciplines that help us in our lives outside of the dojo, no matter who we are, or what we do. I urge you to think about ways that your training can help to provide you with the strength and alertness and focus and compassion that you need as you meet the challenges that face you in your daily lives.

---
---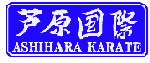 Return to Home Page
---
Updated by Hoosain Narker