About Joining!

---

---

Thank you for your interest regarding Ashihara Karate International. We are always interested in making contacts with Organisations around the world. One of our main goals is to provide quality learning experiences for our members. We host seminars and workshops in several areas including Instructor, Referee and Coaching Certification, Administration, and Business Management to list a few.
We would be interested in working with you to assist in coordinating similar workshops for you or your students. The majority of our workshops take place at our Headquarters in Retreat, Cape Town as well as at the various Regional Headquarters in South Africa and Member Countries. Most of them are a single day or a series of workshops over several months.

We also hold several workshops in front of our major tournaments. Our next major competition will be held in August, 2001. We would be interested in working with you to coordinate having you send a team to this tournament.

Should you require more information or if you want to discuss any specific issue, or wish to be considered for membership, please feel free to contact us.




The following article regarding benefits of membership was prepared for Ashihara Stylists, however it gives an idea of some of the advantages of belonging and it might be of interest to you.
Benefits of Organisational Membership
The following work brings to light the importance of an organisation as well as expectations to and from the organisation and its members. It is hoped that this article will stress the importance of co-operation and unification within the AKI and its member countries.
I feel it important to point out that anyone who claims that they are not receiving any direct benefits from the organisation or who continually asks. "What is the Organisation doing for me?" is either a new member, has not actively participated in any of the various activities or scheduled events by the organisation; or has a total misconception of the "purpose" for which the organisation was founded.
It is a proven fact that an organisation can only be as good or as strong as its members. Therefore, I believe that it is time for each of us to look inward into our own conscience and to re-examine or re-evaluate our reasons for being members so that we can reaffirm our commitment to Ashihara Karate International. It is also my firm belief that a true International Ashihara practitioner does not ask "What is the Organisation doing for me", but instead ask, "What can I do for the Organisation?" This I feel, is in the true spirit and tradition of International Ashihara Karate.
Ashihara Karate International is an organisation operated by and dedicated to the service and advancement of its members. The organisation was formed late in 1993 to serve the needs of Ashihara International practitioners around the world. Since that date, it has grown dramatically in size and strength and has significantly increased its services to its members.
It is probably true that most Ashihara Karate Stylist could survive without an organisation. However, I suggest that without the organisation the majority of students would never reach their optimal level of expertise and more importantly they would not experience the self-discovery and fulfilment which each could realize as active organisation members.
Many of us spend a significant amount of energy in the practice of Ashihara Karate. It seems unwise not to take advantage of all the information and expertise through the organisation in order to maximize our efforts. I suggest that if one is truly interested in anything, it is logical to pursue it via the most respected and capable channel. That is an excellent description of our organisation. I have often been asked in the past few years, "What are the benefits of belonging to the organisation?"
The answers are many, some of which I note as follows:
To see the benefits of Membership - click here!
Many of us who have been in the NIKOfor a long time can remember what it was like prior to the inception of the AKI. For instance, I trained for many years without catching a glimpse of Kancho Ashihara (let alone train under him). Receiving Kyu and Dan certificates from Japan would take anywhere from six months to a year. There were no seniors available to teach you advanced technique or Kata. I taught and trained Ashihara Karate without guidance. The only thing which helped in the early years of training was that I could call Shihan Joko Ninomiya who would explain how to do Ashihara techniques like Kata over the phone (Learning Nage No Kata over the phone was a nightmare).
There were no clinics, video tapes (on PAL), regional examinations, visits by Kancho and Senior Sensei, or any written paraphernalia like syllabus, Kata guide, etc. Worst of all, there were no consistency in teaching and in the application of technique.
So when people like myself, Shidoin Sermet Ulufer(Turkey), Zenon Cortez(Panama), Joe Ngcobo, Donnie Marx & Dadi Bulsara (India) are asked "What are the benefits of belonging to the AKI?", We usually shake our heads and smile because the answers are so many and we know that it is difficult for those who have not always been with us or who are fairly new to the art to understand that what is often taken for granted today was non-existent in the past. The incredible thing is that the Organisation has only been in existence for a short while, but already has achieved so much.
10 Characteristics of a Successful Karate Organisation
1. Purpose and Direction
- A sense of the future - vision
- A sense of purpose - mission
2. People Focus
- achievement through people participation
3. Specific Objectives
- Specific, Measurable, Achieveable, Realistic, Time bound
4. Development Plan
- Pathway to achievement
- 3 or 5 Year Plan
5. Financial Plan
- Budget of program revenue & expenditure
6. Formal Structure
- For decision making, communication, accountability
7. Flexible
- Willing to adapt to opportunities
8. Extensive Networks
- From local to international
9. Participation & Teamwork
- Committed and energetic people for the good of the organisation
10. Sense of Independence
- Not dependant on government or individual
---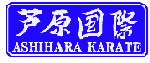 Return to Home Page
---
Updated by Hoosain Narker